New Illegal Rights Boycott/Protest Set For January 2007
I honestly think is time for another national boycott/march to put more pressure on the congress to act. With the past elections, more seats where given to democrats, so now we have a different audience to protest to; they always seem to be more supportive of an immigration reform and I honestly think we need one now.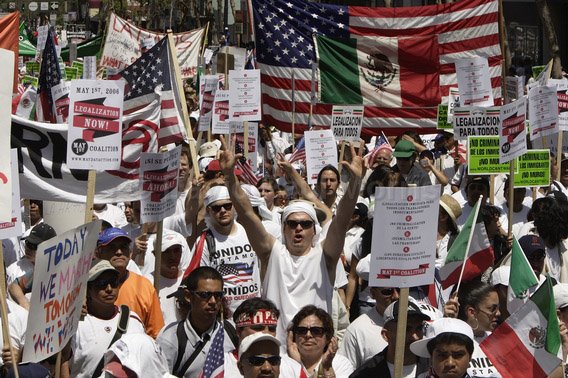 I think we should shoot for something similar or bigger to the National Immigrant Rights March that occurred on March of 2006. I believe it would be a nice idea to do this protest at the beginning of the year ( January 2007) , since its a new year, we want to start in good standing and start demanding what all illegal immigrants deserve, an opportunity to become legalized;like it or not we are to stay here, no border wall or national guard is going to stop these people from coming here.
I will start sending this information to national and state radio stations to start the movement going, I think if we show more rigidness this coming year, a lot of good things can happen for immigrants. I will also contact the UFW ( United Farm Workers) which is really close from where I live, I know they will support me as well as the radio stations spreading the word and needless to mention all the high school and college students that will walkout after classes in support. We will demand immigrant rights and I know we will get them, is a matter of pressuring, marching and protesting, just like Cesar Chavez did.
I will post news on this issue weekly and keep you updated on how the organization is going. One thing I can tell you for sure is that we will get what we deserve and want, its a matter of being persistent and united; remember,

SI SE PUEDE!!